Charli XCX - 2099 (ft. Troye Sivan)
Tekst piosenki 2099
[Chorus: Charli XCX & Troye Sivan]
I pull up, roll up, fuck up
Fast like a Nascar, never touch us
Got visions, levels, they don't get me
Quiet, no discussions, please hush
I pull up, roll up, fuck up
Don't make decisions for me, you don't know nothin'
I'm Pluto, Neptune, pull up, roll up, future, future
I pull up, roll up, fuck up
Fast like a Nascar, never touch us
Got visions, levels, they don't get me
Quiet, no discussions, please hush
I pull up, roll up, fuck up
Don't make decisions for me
You don't know nothin'
I'm Pluto, Neptune, pull up, roll up, future
[Verse: Charli XCX & & Troye Sivan]
Woo!
Killing, I'm so deadly, deadly
Ooh, I'm zooming like a jet ski, zoom zoom
Little dose of napalm, blow it up, yeah
Don't care what she talk about, no
All she wanna do is my style, yeah
No one on my level, I play nice 'cause I'm too clever
I won't show it, never, never, but it's crystal (Woo!)
I'm way up, way better, she might pop but it's whatever
She might sell but what's she selling? Does she last long?
I know they write about me (Yeah)
I know that they all see me (Yeah)
Too scared so they don't play me
Some people try to save me
[Bridge: Charli XCX & Troye Sivan]
Ooh, but I'm feeling so good
Better than I ever could
Having people in my business
Got no cage
Prison, always got away
Wanna listen when I say
"Think I care about the fame?"
Na na na na
[Chorus: Charli XCX & Troye Sivan]
I pull up, roll up, fuck up
Fast like a Nascar, never touch us
Got visions, levels, they don't get me
Quiet, no discussions, please hush
I pull up, roll up, fuck up
Don't make decisions for me, you don't know nothin'
I'm Pluto, Neptune, pull up, roll up, future, future
I pull up, roll up, fuck up
Fast like a Nascar, never touch us
Got visions, levels, they don't get me
Quiet, no discussions, please hush
I pull up, roll up, fuck up
Don't make decisions for me
You don't know nothin'
I'm Pluto, Neptune, pull up, I roll up, future, future
Charli XCX & Troye Sivan- 2099 tekst piosenki
Troye Sivan & Charli XCX - 2099 tekstowo Charli XCX & Troye Sivan- 2099 słowa
Teledysk do piosenki 2099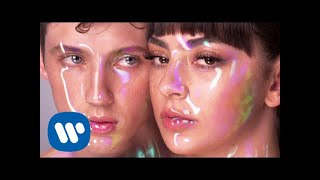 Źródło: tekstowo.pl