Bear's Den - Blankets Of Sorrow
Tekst piosenki Blankets Of Sorrow
[Verse 1]
Hailing all of your virtues as flaws
While the eyes on the floor starts to thaw
And the cracks and the veins start to form
All I can't deny
[Chorus]
Paralysed, you're stubborn mind
Can't see the woods behind
The blankets of sorrow
No one could ever reach or pull you out
You're sleeping as the sleet just falls
To crystallize your crimson thoughts
No more I'm sorry's
No I'm not sorry anymore
The frozen lake or raging storm
The same damn thing in different forms
I can't make you see it
The water only reflects what it's been shown
And I know I should not stay
There you go, you push me away
[Verse 2]
You're praying on a driving snow (Is that what you want?)
To sail you back, to take you back home (Don't shut me out again)
The bitter cold or the frost unknown (If you want to go then go alone)
Do I try or comply?
[Chorus]
Paralysed, you're stubborn mind
Can't see the woods behind
The blankets of sorrow
No one could ever reach or pull you out
You're sleeping as the sleet just falls
To crystallize your crimson thoughts
No more I'm sorry's
No I'm not sorry anymore
The frozen lake or raging storm
The same damn thing in different forms
I can't make you see it
The water only reflects what it's been shown
And I know I should not mistake
There you go, you push me away
[Bridge]
I dreamt I saw a careless child
My thistle amongst the lavender flowers
Crying as the snow started falling
A love you said I?d never know until the day I have my own
But I beg to differ
More than I know how to let it show
Not letting in or letting go
Just saying what I've always known
That I only speak
So that you might hear me
Bear's Den - Blankets Of Sorrow tekst piosenki
Bear's Den - Blankets Of Sorrow tekstowo Bear's Den - Blankets Of Sorrow słowa
Teledysk do piosenki Blankets Of Sorrow
Blankets Of Sorrow Ulubioną piosenką?
Zobacz więcej tekstów piosenek, które wykonuje Bear\'s Den
A MOŻE JESZCZE TROCHĘ TEKSTÓW POPULARNYCH PIOSENEK? HMM?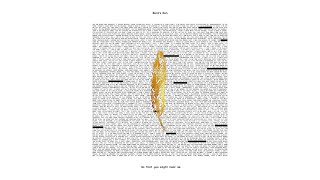 Źródło: tekstowo.pl